What's Click365?

Click365
Click365 is the world's first exchange listed FX Daily Futures contracts that TFX launched in July 2005. With its simple yet unique product structure, Click365 soon caught the attention and interest of investors. One of the key characteristics of Click 365 is "Market-Making Method", in which major players in the interbank FX market, as Market Makers, will provide price and liquidity, and orders of the investors will be executed against the best available price quoted by those Market Makers.
Feature 1: Competitive Pricing Mechanism
TFX quotes the best prices of each contract (currency pair) based on offer and bid prices offered by the Market Makers. The best price is compiled and updated automatically by selecting highest bid and lowest offer quotes submitted by the Market Makers.∗1 ∗2

∗1 Not all MarketMakers offer rates to all listed currency pairs.
∗2 It may become difficult or impossible for Market Maker to provide the offer and bid price in a stable and sustainable manner, depending on certain condition such as sharp fluctuations in the currency market etc., and as a result, the spread may become large and customer may not be able to trade at expected prices and suffer an unexpected loss therefrom.
Feature 2: Liquidity and Transparency
Click365 is supported by the Market Markers, all of them are active participants of the interbank FX market, and they provide efficient amount of the liquidity to the Click365 market. In order to maintain its market transparency, TFX makes sure that the investors are able to visibly confirm, via their screen or TFX HP, the best prices of each contract and their tradable volumes in real-time∗.
∗ The data are updated once a minute.
Feature 3: No Counterparty Risk
As a clearing house, TFX will be a counterparty of all transactions made by the investors. Also Trading Members of Click365 need to deposit all margin collected from their clients to TFX in accordance with the Financial Instruments and Exchange Act, ensuring that funds of the investors will be separately kept and fully protected.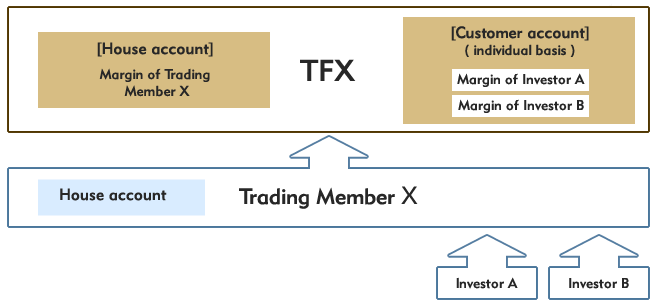 Feature 4: High Leverage
Margin amount required to trade on Click365 may vary depending on the investors' status. For Individual Customers, the contracts can be traded with up to 25:1 leverage ratio, while the Non-individual Customers∗, such as institutional investors, can trade the contracts with the margin calculated based on Historical Volatility method.
FX Margin reference amount for Individual Customers, click here.
FX Margin reference amount for Non-individual Customers, click here.
∗ When the FX margin reference amounts for Non-individual Customer is applied to a Non-individual Customer, the matters set forth below shall be confirmed by an FX Daily Futures trading Member.
(1) The capital or the amount of assets equivalent thereto shall be not less than one million yen,
(2) The Non-individual Customer understands that the different amount from the FX Margin reference amount for Individual Customer is established in the application of the FX Margin reference amount for Non-individual Customer and agrees to execute a transaction at the responsibility of such Non-individual Customer, and
(3) It is reasonably understood that the engagement in FX Daily Futures transactions falls within the business purpose set forth in the articles of incorporation of such Non-individual Customer or is otherwise included in its business descriptions in any other documents.
Feature 5: Various Order Types
TFX supports various order types for Click365 including the following;
| | |
| --- | --- |
| Market Order | An order to buy/sell a contract at the best available price |
| Limit Order | An order to buy/sell a contract at a specified price or better |
| Market-if-touched (MIT) | An order that becomes a market order when a market price reaches a specified price. |
| One Cancels the Other (OCO) | An order consisting of two orders; when either is executed it cancels the other |
| If-Done | An order consisting of two orders: a first order will be executed as soon as market conditions met, and a second order will be activated only if the first order is executed. |